Focus Areas
We focus on people, process, technology and innovation to achieve product excellence with integrity as our core value.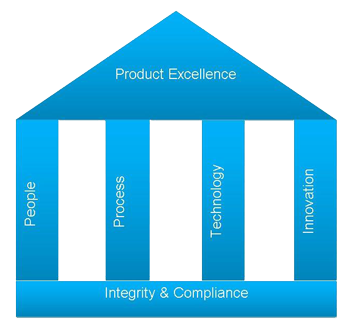 Values
Integrity& Compliance
We strive for fairness in all our business and working relationships.
Quality
We strive for the highest professional standards in our work and aim to be the best in everything we do.
Customer & Technology Focussed
Our customers are foremost in our minds all the time. We got the right technical expertise and a pool of talented engineers to go the extra mile to exceed their expectations.
Employee Friendly
We value our staff and care for their well-being. We treat them with respect and dignity and seek to provide them with appropriate training and development so that they can lead fulfilling careers.
Teamwork
We work with pride as a worldwide team to achieve success together.